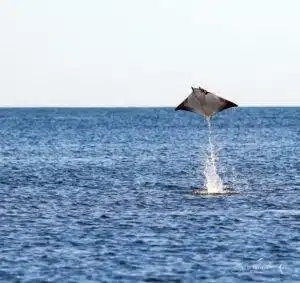 Book Now
The Munk's devil ray, locally – mobula ray (
Mobula munkiana
) is distributed widely throughout the tropical eastern Pacific Ocean ranging from the Gulf of California / Sea of Cortez in Mexico down to Peru, as well as offshore islands such as the Galapagos (Equador), Cocos (Costa Rica), and Malpelo (Colombia).
Every spring and winter, Munk's devil rays,  migrate in their masses to the coastlines of the Baja California peninsula to feed on plankton and find mates. Quite often, these filter-feeding rays can be found in huge groups. A group of rays is referred to as a 'fever' but is also referred to as a school since rays are fish.
Munk's devil rays grow to a maximum of a little over one metre wingspan making them the smallest species in their genus.
The species is categorised as "vulnerable" to extinction on the International Union for Conservation of Nature's (IUCN) red list of threatened species. Despite being protected, they are under-threat from illegal fishing and accidental by-catch.
Join us on a day trip to seek and snorkel with these beautiful creatures.
Price is $165 usd per person and includes a clean shaded panga for up to seven guests (larger groups can be split between several boats), a marine biologist guide, ceviche or burritos lunch and refreshments, and up to six hours exploring several bays and channels to find where the mobulas are. We also take the boat over to the southern part of Isla Cerralvo for snorkelling and free diving on a beautiful rocky reef abundant with healthy stony corals, gorgonians and schools of reef fish.